WORLD PREMIERE: The Catastrophic Theatre, Houston, TX Feb 11-March 6, 2017
NEW YORK PREMIERE: New Georges, Summer 2019, dates TBA.
Previous workshop: Playwrights Horizons, winter 2016. Nominated for the Susan Smith Blackburn Prize, 2018.
First suburb
WORLD PREMIERE: The Catastrophic Theatre, November 16-December 9, 2018.
Past Workshops: Cloud City, Brooklyn, winter 2015, Weber State University, fall 2017.
Phantasmagoria, or Let us seek Death!
A rainy night in a Genevan castle. Debauched poetry and too much wine. A 17 year old girl writes a spooky story.
Centuries later, the creature still ambles through our culture. Mary Shelley unleashed her creation on the world: the first modern monster; an assemblage of the recent dead. On the 200th anniversary of Mary's creation, we return to Frankenstein; or the Modern Prometheus to discover whether the dead ever truly leave us.
La MaMa's Ellen Stewart Theater, Fall 2016. Directed by Randolph Curtis Rand, with puppetry by Benjamin Stuber.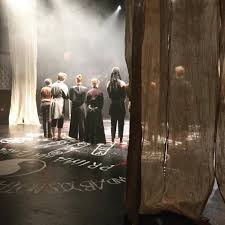 We love you most Phanta-astic cast!
dearly beloved
A meditation on productive despair for community choir
In development with New Georges, with music by Deepali Gupta, direction by Sarah Hughes, produced by Bailey Williams.
Past workshops include: Dixon Place's Little Theater, and Cloud City.
beshert
Our energetic intentions have consequences as a religious family man is confronted by a ghost from his past. Or maybe a con man. Or a demon. Or perhaps, an angel. 2 W, 2 M.
Past Production: PS122's 9th space, spring 2011.
Want to request a script? Inquire using my contact page